Highlights
Custom Furniture Suppliers Zone - International Hall 14.1

● Concept - Following increasing consumer demand in recent years, the customized and "non-standardized" furniture industry has taken on an important development. As custom cabinetry gains traction, manufacturers are also embracing the concept of whole house customization as an emerging trend. While customized furniture satisfy individual needs of consumers, they also allow flexible automated production, which means manufacturing in small batches.
To comprehensively reflect the challenges and opportunities brought about by customization trends in the furniture industry, especially in China, this zone has been established to highlight those existing as well as new exhibitors at interzum guangzhou to the related industries.

● Who is qualified to exhibit at this Zone - Existing & new exhibitors who supply their products (accessories) to custom-made home living manufacturers, interior designers and furniture manufacturers. This Zone will feature hardware accessories, panels, edge banding, worktops, furniture surfaces, etc.

● Who will be invited to visit - Custom-made home living furniture manufacturers and interior designers to source from selected high quality hardware accessories and panel brands.

● Dedicated marketing campaign - Personalized invitation, pre-event press conference, telemarketing, direct mailing & e-mail blasting to promote and invite target visitors to the zone.

● Attraction of CFS Zone
1) Latest Product & Technology Showcase for custom-made home living furniture industry;
2) CFS ZONE Networking Happy Hour;
3) Exclusive Souvenir;
4) Lucky Draw.

● Location of CFS Zone - CFS ZONE located at the right corner of Hall 14.1, connecting to Hall 15.1.
Exhibitor list of the Custom Furniture Suppliers Zone will be released later.
20 PLUS 20 Annual List - interzum guangzhou Outstanding Furniture Accessories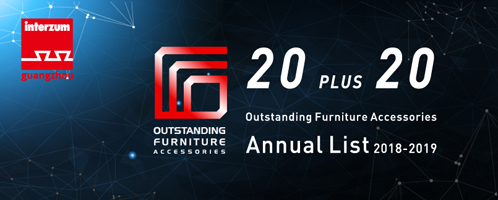 Initiated by interzum guangzhou, the "20 Plus 20 Annual List - interzum guangzhou Outstanding Furniture Accessories" is officially calling for submissions for 2018. Activities will revolve around furniture manufacturing, with the selection of the top 20 furniture accessories suppliers. Each company will nominate one of their products to be compiled into the most influential and innovative furniture accessories list for 2017-2018. "20 Plus 20" is poised to lead the trend in furniture design and strengthen the backbone of the furniture production industry.
"20 Plus 20 Annual List" is an initiative by the event organizers to promote innovative design following the successful launch of the feature zone entitled "Unveiling - The Mysteries of Furniture Production" at the last interzum guangzhou.
Nominees will be announced before CIFM / interzum guangzhou 2018, and products will be showcased during the event. "20 Plus 20 Annual List" is only open to exhibitors, please contact us to participate.
Brief Introduction
Date & Venue
28 - 31 March 2019
China Import and Export Fair Complex, Guangzhou
Frequency
Annual

Organizers
Koelnmesse
China Foreign Trade Centre
Exhibition Fee
Space only (min. 18 sqm):
EUR 250 or RMB 1,850 / sqm

Space with standard shell scheme (min. 9 sqm):
EUR 300 or RMB 2,350 / sqm

Space with premium shell scheme (min. 18 sqm):
EUR 310 or RMB 2,450 / sqm

Co-exhibitor fee:
EUR 350 or RMB 3,000 / exhibitor

Basic catalogue entry fee:
EUR 150 or RMB 1,100 / exhibitor
See You There
CIFM / interzum guangzhou
28 - 31 March 2019
To make a note in your Outlook Calendar, please click here.